Welcome to my oasis on the internet. I created this site to share some of my favorite pictures I've taken.
When I'm not working as a computer/electronics engineer, I try to experiece the great outdoors as much as possible.
Capturing space/time can take a lot of dedication, patience, and luck. I try to find inspiration whenever and wherever possible.
It never ceases to amaze me how beautiful this world truly is, if you can find the time to pause and smell the roses.
I have studied buddhist and eastern philosophy, and I believe in protectecting the enviroment and advocate responsible resource management.
The world is filled with drama, and I try to encourage people not to get overwhelmed by it, and try to keep a positive attitude always.
In addition to my love of  photography, is my favorite adrenaline sport, snowboarding. You will find me hiking Alta and Snowbird

I have many dreams and aspirations, carving some fast turns down extremely massive steep slopes in deep powder.
25,000 vertical feet is an average day for me.
I also like rock climbing. The Wasatch mountains have so many nice places to go and enjoy nature.
Yosemite is also a very nice place. A climbing mecca.
One of  my most memorable moments was a 14 hour round trip hike/climb up Half  Dome with Bob Palais, and Anatoli Boukreev.
I have toured the world doing my other favorite activity, scuba diving. Seeing a huge 60 foot wall of living coral moving with the currents in Thailand,
was one of the most awe inspiring diving experiences. I'm really glad I have had the opportunity to experience swimming with all kinds of marine life including
barracuda, eels, manta rays, jelly fish, octopus, and sharks.

Hundreds of high quality stock photos are available, contact me below for more info

Beekeeping has always fascinated me, and 8 years ago I decided it was time to embark on a new journey, and get some bees and start a few beehives.
I have learned a lot about bees and the struggle for their survival. I have also discovered the Best Honey in the World comes from my own backyard!

Have a bee swarm at your home or office?

View a bee swarm in HD.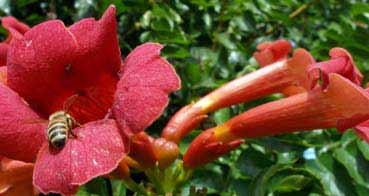 Thanks for looking